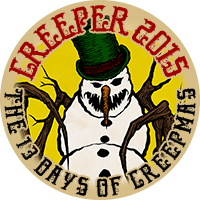 Yeah, yeah...I know...I went all quiet again! But in true Blog Of Stuff tradition I'm back for this years 13 Days Of Creepmas! Over the next 13 days, and possibly beyond but we'll see how that goes, I'll be posting all manner of creepy stuffs to do with Christmas!
I'll also try to get through some more Gruesome Games, and put up a few more comics, etc. as well.
To check out the other blogs participating in the Creepmas countdown, just click one of the Creepmas badges you see on the page (like the one at the top of this post) and you'll be magically transported to a land of ice screams and festive fear!
Anyhoo, I'd best get on with my first Creepmas post....let's see...ah yes, Gruesome Gifts! ;)