As you will hopefully be aware, this year I participated in the
Countdown to Halloween
, and joined a whole load of other bloggers in celebrating the spooky speciallness of the season. You remember...that odd pumpkin badge at the side of the blog!? Clicking on that takes you to the list of participating bloggers and you can go visit their sites and revel in the beastly beauty of them all.....
Well, it turns out that a similar thing is happening over at
The 13 Days Of Creepmas!
For the first 13 days of December, clicking the little Gingerbread Man that has appeared below the Pumpkin at the top right of the blog will take you to another list of blogs bringing an extra collection of creepiness into the Christmas season as a response to retailers make Christmas do it's own creeping into October and November!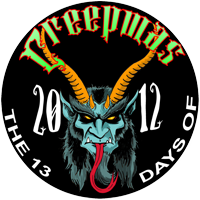 As such, it's a perfect opportunity for me to complete the list of Gruesome Games and help bring some horror to the holidays too....so maybe the blog isn't cursed after all, and it was just the evil demon-lords of Blogger making me ill and breaking my computer so as I could participate in the Creepmas Countdown! I'll try and find some more Christmas related spooky stuff to throw in there too, so it should be fun! Looking forward to it....
(Christmas Ash pic taken from Dynamite Entertainment's Ash's Christmas Horror and is their Copyright)