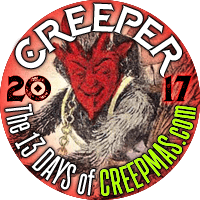 Blimey! I was so burned out after the Countdown To Halloween and 'real life' stuffs that I completely forgot to get started with this year's Creepmas celebrations! I've just been added to the roster over at the Creepmas hub though, so starting tomorrow I'll get on with celebrating the remaining days and getting revenge on Christmas trying to creep it's way into Halloween!
To see the other participants and enjoy what they're all posting, just click on either of the Creepmas badges in this post, or the one which has appeared at the top right of my blog...over there, look...yes, that one!
Anyway, expect the usual gift ideas, comic scans, TV shows, movies, etc. that you'd normally see on here but with a more Creepmassy feel, if I can mange to find some of that ilk anyway, having completely forgotten to prepare!! But aye, tomorrow it shall begin a proper, so come back then!!