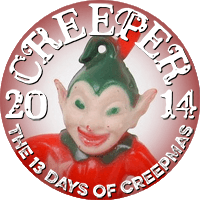 For years now, Christmas has been slowly creeping it's way towards Halloween, with retailers now putting out Christmas decorations on the shelves at the same time as the skulls, spiders and scary masks....so a few Halloween fans over at
Creepmas
decided to retaliate and got together to put the creepy in to Christmas!!
So for the next 13 days I've decided to join them once again in the good-natured push back at this retailer onslaught, and will be posting all manner of ghoulish gift ideas, creepy comics & other seasonal spookiness on the blog!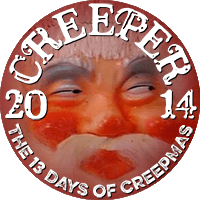 If you have a blog or website of your own and would also like to take part, or just want to have a nosey at what the other sites celebrating Creepmas are up to, just follow the link above or click on one of those CREEPER 2014 badges! At any time between now and next year, clicking the Creeper badge at the side of the blog will also take you over to the Creepmas site too!
It should be a whole lot of fun, and I'm really looking forward to taking part and seeing what other freaky finds the others have in store...Oh, and there's an extra art challenge this year too, with every day having a different theme, so it'll be great to see what people come up with for those! Today's theme is ELF, and so I've done my own drawing of a scary Santa-helper that you can check out below! And check back tomorrow, when I'll hopefully have some gift ideas for you!