Every now and again, I'll be putting up these posts with some of my favourite moments from games I've played over the years, in the style of similar things I've read in various Retro magazines....
Here then, is the first set of events in games that stood out for me.....Oh and I suppose if you happen to be playing one of the games at the moment and don't want any spoilers, then ..uhm...don't read it...
Resident Evil - Playstation
You have lost your companions in the old, spooky mansion and whilst hunting for them, you find a long, narrow corridor with windows down one side and cabinets down the other..As you start to walk along past the windows.....a snarly, mutilated feckin' wolf beast smashes through one of them and makes straight for your neck!! Still one of the most pant-cackingly brilliant scares in videogames!!
Barbarian - Various Platforms
Two brave warriors face each other in a heated battle! As the fight starts, one of them (controlled by you) rushes forwards, spins round and lops the other guys head clean from his shoulders!! And then a midget snake-guy comes plodding along, gives the head a swift kick and chuckles away to himself.....Brilliant!
Perfect Dark - N64 & XBLA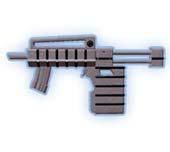 You've been running around the levels hunting down your mates for ages. You rush into a room having seen a blip on your radar! Suddenly, from above you hear a faint whirr...and then 200 bullets rip through your body without a sign of an enemy anywhere.......
The Laptop Gun is an ingenious invention! You can put it anywhere and run off, leaving it to do the dirty slaying business for you, or sit and snipe people through walls with the Farsight as the Laptop protects you whilst your sights are elsewhere....
Right, that's the first lot....keep an eye out for more soon! :)